Express Stung Again, Late Comeback Denied in 11-9 Loss to Skeeters
Round Rock, TX – After nearly an entire series of anemic and untimely hitting, the Round Rock Express offense finally showed some life, scoring 6 runs in the bottom of the 8th inning, only to see their hopes of victory dashed in the top of the 9th as the Sugar Land Skeeters scored four of their own in the top of the 9th off righty Ryder Ryan to beat the Express 11-9 in front of 3,062 (and definitely 6 raccoons) at Dell Diamond Tuesday night. The game took an un-Godly 4:10 to complete after a twenty-eight minute rain delay.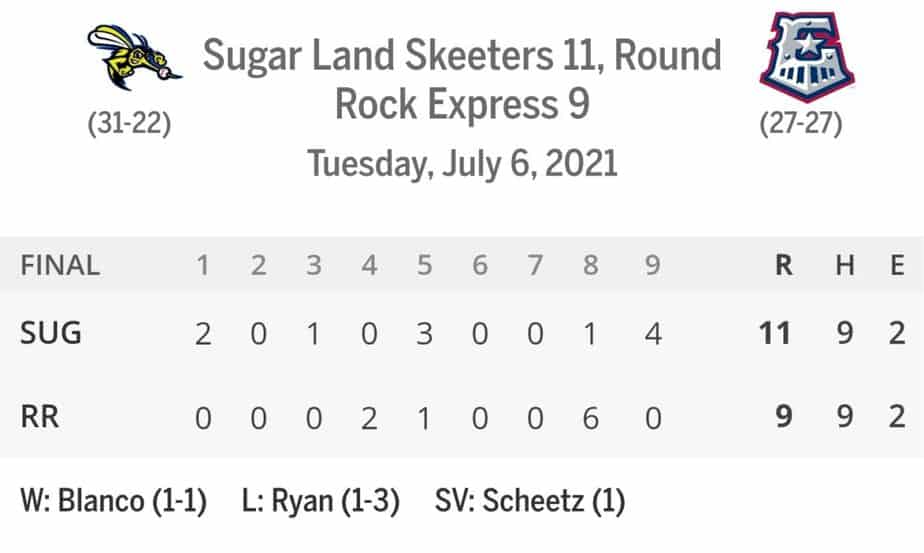 Round Rock had the tying run at the plate in the bottom of the 9th only for Skeeter right fielder Jake Myers to rob Yohel Pozo of a hard hit liner to end the game. Pozo had a chance to tie or win the game in the 9th inning three times in the series resulting in a home run on Friday and a strikeout on Saturday prior to tonight's thievery.
Ryan (1-3, BS 2, 6.20) took the loss for the Express while Rohel Blanco (1-1) picked up the win for Sugar Land, despite blowing the save opportunity (BS 3) in allowing all 3 of his inherited runners to score and allowing 2 more (1 earned) on his own record.
The loss, Round Rock's 8th in their last 10 and 15th of their last 20, evens Round Rock's record at 27-27, dropping them to 4.5 games back in third, one game behind the OKC Dodgers who lost to Salt Lake 4-1 on Tuesday. This was the third straight series loss for the E-Train (4-14 18gms). The win improved the Skeeters to (31-22) extending their aforementioned lead on OKC to 3.5 and 4.5 on Round Rock.
Up Next
Wednesday there will be a much needed day off as the Triple-A West has a league-wide day off. From a fan standpoint the entire series was much fun despite the home team's dismal 1-5 performance and there certainly was the feel of it being the Tuesday after Independence Day so maybe the fans could use a break as well.
The Albuquerque Isotopes (19-34, 12.5 GB) come in for their only schedule 2021 appearance at Dell Diamond, opening a 6-game series At Dell Diamond on Thursday. Thursday's as usual is Pints and Pups which getting your puppy beered up is not recommended by *this guy* but still is much fun. If the Express' endorsement of getting your canine liquored up isn't enough, Thursday night is also Copa De La Diversion, a season-long event series designed to embrace the cultures that hit home with each team's local Hispanic communities. While Thursday night's iteration will have the Round Rock Chupacabras hosting the award winning Albuquerque Mariachi's, this reporter is just happy to see someone besides OKC, Sugar Land and a smattering of El Paso come to town. Game-time is 7:05.
Return later to The Prospect Times for full analysis.