In the past the Texas Rangers were often overlooked in the scope of MLB farm system rankings, but with recent drafts and trades, they have a deep system and some very intriguing prospects. In the latest MLB.com farm system rankings, they have the Rangers listed at number 11. Let's take a look at our list of the Texas Rangers top 20 prospects 2022.
Put your shades on because the Texas Rangers future is bright.
20. Tekoah Roby
Age: 20 | Position: RHP | Draft: 3rd Rd 2020 | ETA: 2024
At 20 years old, Tekoah Roby had an impressive first pro season. He was assigned to the Low-A Down East Wood Ducks and finished with a 2-2 win-loss record and a 2.45 earned run average in six games.
He pitched 22 innings, giving up 14 hits, 7 walks, and striking out 35. His 0.955 WHIP was an excellent as well as his 14.3 strikeouts per nine innings. Unfortunately, an elbow sprain ended his excellent start to the season but we feel he was impressive enough to land here at 20.
19. Yeison Morrobel
Age: 18 | Position: CF | Bats: L | Throws: L | Signed from the Dominican Republic | ETA: 2025
Yeison Morrobel, an outfielder from the Dominican Republic and a 2020 international class jewel signed for $1.8 Million. He may not be someone who Rangers fans have heard tons about but he's got solid numbers.
51 games in the Rookie Dominican Summer League saw him hit for a .270 batting average, 1 home run, 11 doubles, 6 triples and steal 8 bases. More impressive is that he walked more times than he struckout 30 BB/25 SO. I would expect the power to come along a little more once he fills out more.
18. Davis Wendzel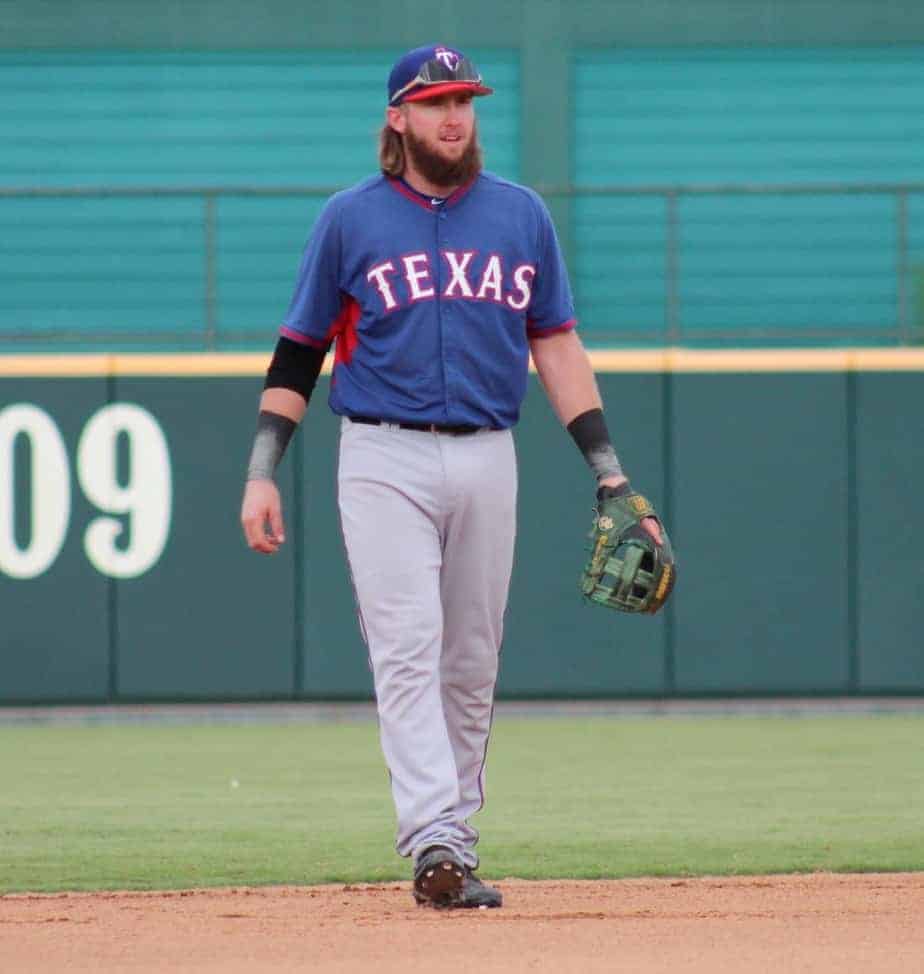 Age: 24 | Position: INF | Bats: R | Throws: R | Draft: 1st Rd 2019 | ETA: 2022
The Rangers drafted Wendzel out of Baylor with the 41st pick in the 1st round of the 2019 draft. He's one of the more patient hitters I've seen at the plate.
In 2021 in Double-A Frisco he hit a line of .239/.348/.390/.738 with 6 home runs, 23 RBI, 21 walks and 43 strikeouts. A couple of injuries, including a hamate bone injury limited him to 45 games at the AA level.
Once the Double-A season ended and the RoughRiders were eliminated from the post-season picture, Davis was promoted to Triple-A Round Rock.
With the Round Rock Express he hit a line of .214./333/.464/.798 with 1 home run, 2 RBI, 2 walks and 8 strikeouts.
Due to the Rangers having a log-jam of sorts in the infield if Davis isn't part of a trade and remains healthy, he's primed to have a breakout season.
17. Maximo Acosta
Age: 19 | Position: SS | Signed out of Venezuela | ETA: 2024
Maximo Acosta is only 19 years old. The Rangers signed the Venezuelan shortstop in 2019 for $1.65 Million.
He had a somewhat down season at the plate in the Arizona Complex League with a line of .246/.279/.393/.673 with 1 home run, 5 RBI, 2 doubles, 2 triples. He worked 3 walks compared to striking out 15 times.
Acosta has the tools to be a great player. He can throw hard and defend well with his plus defense. He could develop potential double-digit home run power in the future. The excitement is warranted with the potential he has.
He was sidelined with thoracic outlet syndrome surgery in August 2021.
16. Blaine Crim
Age: 24 | Position: 1B/DH | Bats: R | Throws: R | Draft: 19th Rd 2019 | ETA: 2022
Some will disagree that Crim belongs on this list because of his age and level. It seems as though Crim is being overlooked quite a bit but that can no longer be the case here at The Prospect Times. We had to include him on this list and felt this a good spot for him.
Crim was drafted in the 19th round of the 2019 draft from Mississippi College. Looking back at his college career you'll find a batting line of .350/.404/.585/.990 with 35 home runs, 196 RBI, 68 walks and 69 strikeouts.
Crim has seen a few levels in 2021-22. He started 2021 in High-A Hickory where he hit a line of .300/.372/.559/.931 with 20 home runs, 61 RBI, 21 walks and 64 strikeouts.
He was scorching pitching in the Hickory line-up and promoted to Double-A where he hit .288/.331/.525/.856 with 9 home runs, 19 RBI, 7 walks and 35 strikeouts. Blaine was also listed on our top 10 longest home runs post in Frisco this season.
If those line aren't impressive enough for you, Crim was just named the batting champion in the Roberto Clemente Puerto Rican League, Liga de Béisbol Professional de Puerto Rico, with a .402 average.
Bottom line is that Crim's bat is impressive.
15. Aaron Zavala
Age: 21 | Position: OF | Bats: L | Throws: R | Draft: 2nd Rd 2021 | ETA: 2024
# 15 rank in 2021: Ricky Vanasco
Zavala was drafted out of Oregon in the 2nd round of the 2021 draft (pick 38). In 2021, in a short visit to Arizona Complex League, Aaron hit a line of .273/.385/.318/.703 with 2 RBI in 7 games.
Then was promoted to Low-A Down East where he impressed with a line of .302/.433/.434/.867 with 1 home run, 7 RBI, 10 walks and13 strikeouts. He was perfect in his stolen base attempts between the two leagues with 9 stolen bases.
His bat seems to be his loudest tool with an average arm, speed and defense.
14. Zak Kent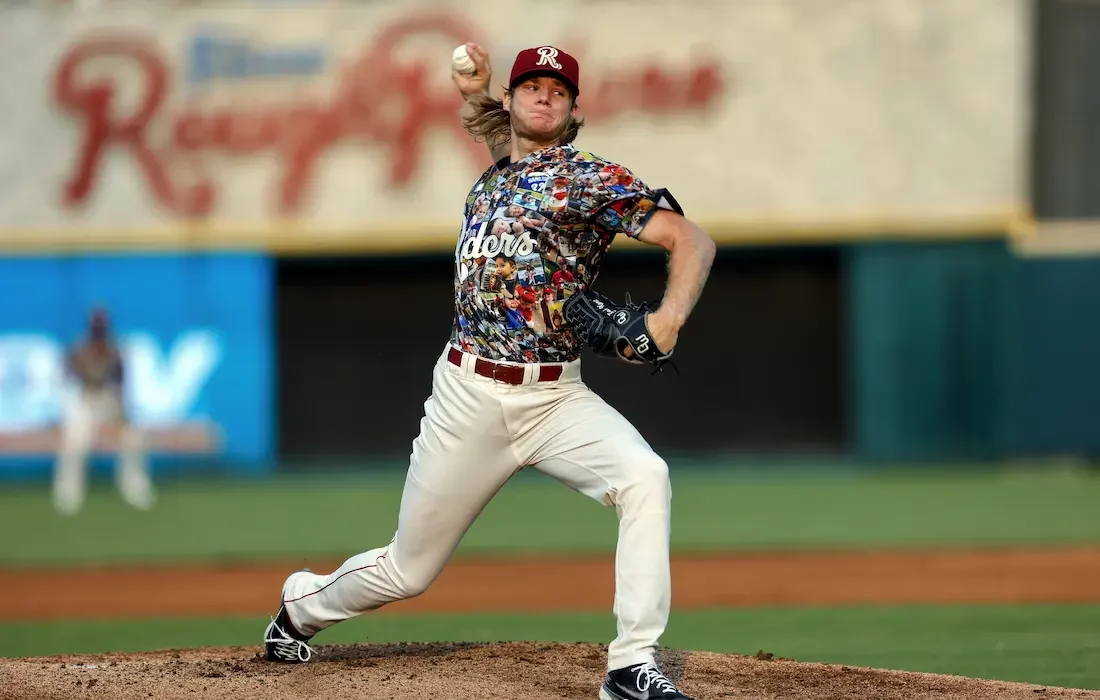 Age: 23 | Position: RHP | Draft: 9th Rd 2019 | ETA: 2023
# 14 rank in 2021: Bayron Lora
Kent was a 9th round selection by the Rangers from Virginia Military Institute.
We were paying attention to Kent as he was mowing down line-ups in High-A Hickory. He pitched to 6-2 win-loss record with an impressive 2.83 earned run average in 60.1 innings pitched. He walked 15 batters for a base on balls of 2.2 per 9 innings and struckout 78. Kent was also named pitcher of the week a couple of times.
With his impressive outings Zak got promoted to AA Frisco, where he will likely start in 2022. In 6 games he had a 0-4 record with a 5.34 earned run average in 28.2 innings pitched. He walked 9 batters and struckout 39. His walks and strikeouts per 9 innings slightly increased while his home runs given up also went from 0.7 to 2.8 per 9 innings.
A side note: the curveball Kent throws is a thing of beauty.
13. Sam Huff
Age: 24 | Position: C/1B | Bats: R | Throws: R | Draft: 7th Rd 2016 | ETA: MLB Debut in 2020
# 13 rank in 2021: Steele Walker
Huff was drafted in the 7th round of the 2016 draft. We all know that Huff made his Major-League debut in the Covid-shortened 2020 season. He handled his own slashing a line of .355/.394/.742/1.136 with 3 home runs, 4 RBI, 2 walks and 11 strikeouts.
Sam Huff dealt with injuries during the 2021 season. He suffered a hamstring injury while in spring training and then a knee injury which required surgery. Once he came back and was playing in Arizona on rehab, he launched a ball (511 feet) into orbit. We're sure that ball is still circling the globe as we speak.
Once he was assigned to AA Frisco, he played in 46 games- all at 1st or DH. He connected with a couple of balls that were sent completely out of Riders Field. The raw power that Sam Huff has is real. He hit a line of .237/.309/.439/.748 with 10 home runs and 23 RBI. He worked 16 walks and struckout an uncomfortable 77 times.
Huff ended the season in AAA Round Rock where he hit better line, although it was fewer games. He blasted 3 home runs, 7 RBI, worked 2 walks and struckout 9 times hitting a line of .273/.320/.727/1.047 in 7 games.
12. Ricky Vanasco
Age: 23 | Position: RHP | Draft: 15th Rd 2017 | ETA: 2023
#12 rank in 2021: Davis Wendzel
There have been some that claim that Vanasco is the best pitcher in the Ranger system. Of course, that was prior to the Tommy John surgery he had in September of 2020 but still doesn't change the fact that he is highly regarded in the system.
He has been rehabbing and was assigned to the Instructional League and reports were definitely encouraging. There are no official stats for Vanasco the last two seasons. Going back to 2019 at the Single-A levels he had a combined 3-1 win-loss record with a 1.81 earned run average. In 49.2 innings he walked 25 batters but struckout 75 (13.6 SO/9).
11. AJ Alexy
Age: 23 | Position: RHP | Draft: 11th RD 2016 | ETA: MLB Debut in 2021
# 11 rank in 2021 : Luisangel Acuña
A.J. Alexy was drafted in the 11th round of the 2016 draft by the Dodgers. He came to the Rangers in the Yu Darvish trade. A.J. started the 2021 season with Double-A Frisco.
He appeared in thirteen games, with seven of those starts. Tallied 50 innings pitched, thirty hits were allowed, forty one walks issued and struckouy sixty-seven batters. He had basically cut his walk rates from previous seasons in half.
A.J. got the well-deserved promotion to Triple-A Round Rock and made three starts pitching 14 innings. He allowed 9 hits, struckout 19 and issued 6 walks for a 1.023 WHIP.
Then A.J. got his call to the Rangers where in 5 games- 4 starts he had a 3-1 win-loss record with a 4.70 earned run average in 23 innings. He allowed 13 hits, issued 17 walks and struckout 17.
Since he made the bigs and hasn't exceeded his rookie status, he had to be included in this list.
10. Evan Carter
Age: 19 | Position: CF | Bats: L | Throws: R | Draft: 2nd Rd 2020 | ETA: 2024
# 10 rank in 2021: Justin Foscue
Evan Carter was a pick that had some scratching their heads when the Rangers drafted him in 2020. The Rangers saw a potential 5-tool player and they may be onto something. He's a speedy Centerfielder and played in 32 games in 2021 for the Down East Wood Ducks. He hit a line of .236/.438/.387/.825 with 2 home runs and 12 RBI. He walked more than he struckout 34/28 which shows plate awareness and catches our attention.
Strikeout-to-walk ratio is an indication of plate awareness. 34 strikeouts and 28 walks show that he's got it and it makes him stand out to us.
9. Luisangel Acuña
Age: 19 | Position: SS/2B | Bats: R | Throws: R | International signing out of Venezuela | ETA: 2023
#9 rank in 2021: Maximo Acosta
Luisangle Acuna is a 19 yearr old SS/2B who signed with the Rangers in the 2018 International class from Venezuela. You might have heard of his brother Ronald from the Braves?!
In Low-A Down East Acuña hit slashed .266/.345/.404/.749 with 12 home runs, 74 RBI, 49 walks and 110 strikeouts. He showed his speed on the base paths by stealing 44 bases.
8. Owen White
Age: 22 | Position: RHP | Draft: 2nd Rd 2018 | ETA: 2023
#8 rank in 2021: Sherten Apostel
White was drafted by the Rangers in the 2nd round of the 2018 draft out of Carson High School in North Carolina. He was part of the short-lived deload program that the Rangers tried and Tommy John Surgery caused him to miss the entire 2019 season and of course Covid-19 wiped out the 2020 season. He missed over two months of the 2021 season due to a fractured hand. All of this makes Owen White's 2021 season even more incredible.
He pitched for Low-A Down East in 2021 to a tune of a 3-1 win-loss record and 3.24 earned run average. In 33.1 innings he walked 12 and struckout 54. In each of his September starts, he pitched at least 5 innings and had double-digit strikeouts.
The Rangers assigned White to the Arizona Fall League to get in more work due to the missed time.
Owen had a phenomenal Arizona Fall League season with a 5-0 win-loss record and a 1.91 earned run average in 6 games. In total, he pitched 28 innings, walked 13 and struckout 29.
The Arizona League isn't exactly known for being friendly to pitchers so we feel like he should have won MVP but he did win AFL pitcher of the week and was named the AFL pitcher of the year.
7. Josh H. Smith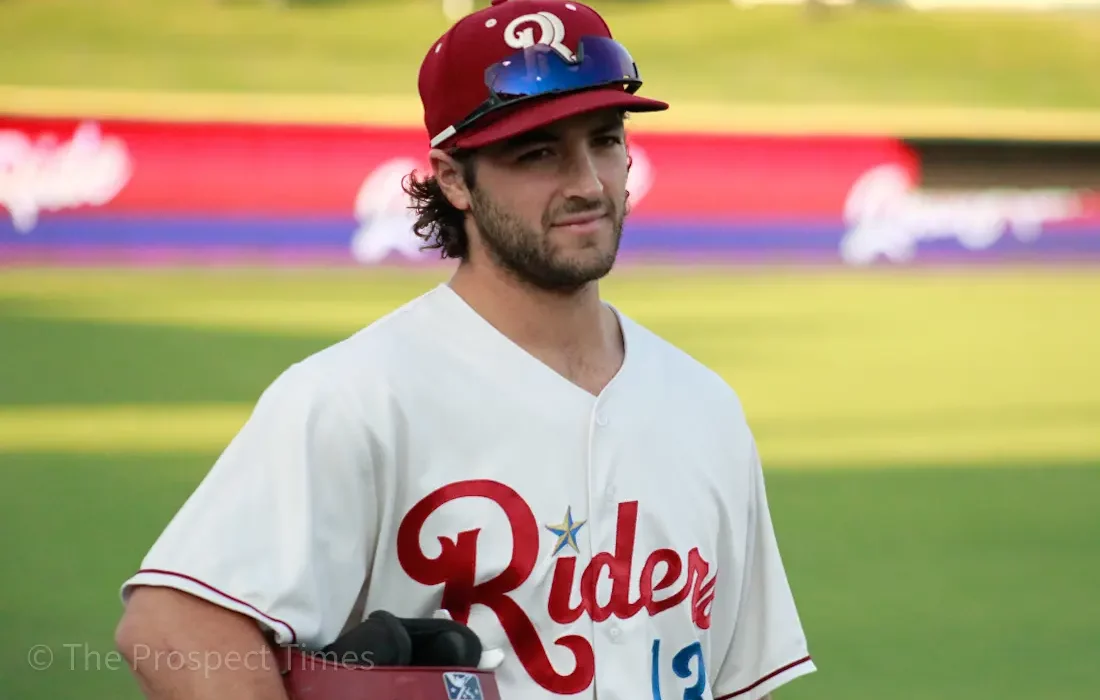 Age: 24 | Position: SS | Draft: 2nd Rd 2019 by NYY | ETA: 2022
2021: Anderson Tejeda
The Rangers acquired Josh H. Smith in the Joey Gallo trade with the Yankees.
Between Low-A, High-A and Double-A with the Yankees and the Rangers, Smith raked at the plate. He's got excellent bat-to-ball skills as evidence by his line of .309/.429/.535/.963 with 13 home runs and 43 RBI. He worked 43 walks and struckout 62 times.
When he promoted to Frisco he hit .294/.425/.431/.857 with 3 homers, 10 RBI, 18 walks and 20 strikeouts. He showed his wheels by stealing 7 bases. For the season the stole a total of 26 bases.
Defensively Smith is solid. We witnessed several excellent plays that showed a lot range.
Sidenote* Smith and his wife have a YouTube channel called 'Gettin Smithy With It' which is pretty popular along with their TikTok account. They document their life as married couple in the Minor-League life. They recently bought their 1st house in Houston.
6. Ezequiel Duran
Age: 22 | Position: 2B/SS/3B | Signed out of the Dominican in 2017 International | ETA: 2023
2021: Hans Crouse
Ezequiel Duran was also part of the Gallo trade. He and Smith made an immediate impact and ranked in the top 10 of the Texas Rangers prospects. Duran was ranked # 7.
He started 2021 playing for the Yankees High-A team, the Renegades. He slashed .290/.374/.533/.907 with 12 home runs and 48 RBI in 67 games. Then he was traded to the Rangers and assigned to High-A Hickory where he hit .229/.287/.408/.695 with 7 home runs and 31 RBI in 38 games.
Duran was one of a handful of Rangers prospects assigned to the Arizona Fall League. He performed well and was named to the Fall-star team along with Rangers right-hander Owen White. Duran excelled at the plate with his .278/.333/.611/.944 line at the plate. He hit 3 home runs,12 RBI along with 5 walks and 9 strikeouts. The Fall League is kind of more hitter friendly, especially this season but it was great to see this performance from Duran.
5. Dustin Harris
Age: 22 | Position: 1B | Bats: L | Throws: R | Draft: 11th Rd 2019 by Oak | ETA: 2024
#5 ranking in 2021: Cole Winn
The Rangers received Dustin Harris from the Oakland Athletics as part of the Mike Minor trade.
Harris really sky-rocketed up the ranking charts with his incredible season in 2021. He's got a good eye for the strikzone. He was named the Texas Rangers Minor-League player of the year and for good reason.
The impressive thing is that Harris' numbers got better in High-A. Now granted he played in about half the number of games (37) than he did in Low-A (73) but hit the same number of home runs and saw his OPS go from .872 to 1.073. Dustin has some speed as well swiping 25 bases on the season.
Harris' strongest month at the plate was July where he hit .355/.412/.968/1.380 with 10 home runs and 24 RBI. For the season he had a 1.221 OPS with 2 outs and runners in scoring position.
He was listed as the 17th ranked prospect in 2021 according to MLB- their 2022 rankings have not been released yet.
4. Justin Foscue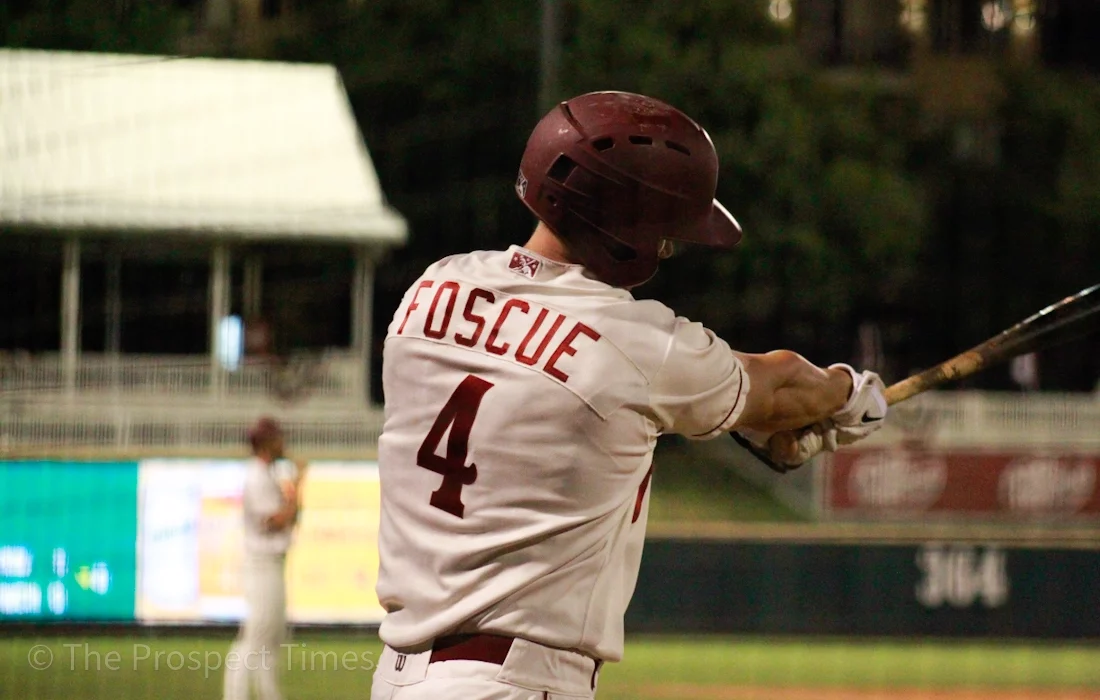 Age: 22 | Position: 2B | Bats: R | Throws: R | Draft: 1st Rd 2020 | ETA: 2023
2021: Dane Dunning
The Rangers selected Foscue in the 1st round of the 2020 draft with the 14th overall pick out of Mississippi State.
Foscue missed time in 2021 due to a rib injury and an oblique muscle strain. Despite missing a chunk of time, he didn't miss a beat at the plate in Hickory.
In a total of 33 games with the High-A Hickory Crawdads he hit .296/.407/.736/1.143 with 14 home runs and 35 RBI. He walked 16 times and struckout 39 times in 150 plate appearances.
His whole line at the plate took a dip once he promoted to Double-A Frisco. He hit .247/.317/.387/.704 with 2 home runs, 13 RBI, 8 walks and 29 strikeouts.
He was assigned to the Arizona Fall League to get more work in and hit .257/.416/.529/.944 with 5 home runs and 14 RBI. He worked 15 walks and struckout 23 times in 19 games.
3. Cole Winn
Age: 22 | Position: RHP | Draft: 1st Rd 2018 | ETA: 2022
2021: Sam Huff
The Rabgers drafted Cole Winn in the 1st round of the 2018 draft with the 15th pick out of Orange Lutheran High School.
Winn is about as composed as you can get on the mound from what we've seen in Frisco and doesn't lack the confidence to throw any of his pitches in any count. He led the team in just about every pitching category there is. He had a 3-3 win-loss record with a 2.31 earned run average in 78 innings pitched. He walked 26 batters and struckout 97.
Winn promoted to Triple-A and made two starts before the season concluded. He pitched 8 innings with a 3.38 earned run average and a 1-0 record.
Winn should start the 2022 in Triple-A and depending on how it goes it is very possible that we see a late season call-up. The Rabgers will have to have no doubt he is ready before that happens. Winn figures to be a solid mid of the rotation starter.
2. Josh Jung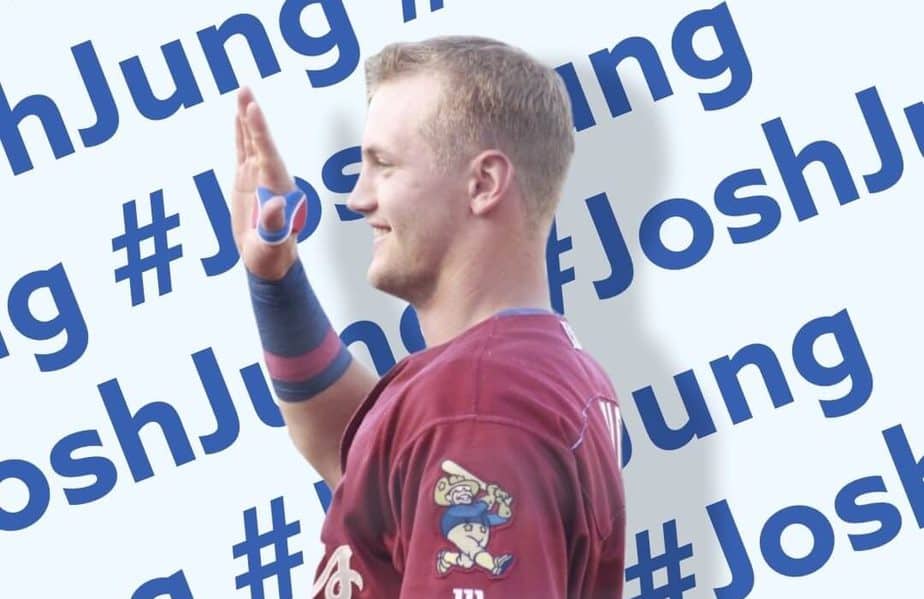 Age: 23 | Position: 3B | Bats: R | Throws: R | Draft: 1st Rd 2019 | ETA: 2022
2021: Josh Jung
Josh Jung is a one of the most popular Texas Rangers prospects and is expected to make his Major-League debut this season. Some think he will make the Opening Day roster, others don't but there is no doubt of the talent in Jung. Although he was delayed by injury to start the season, once he got back, he never looked back.
He played 43 games in Frisco slashing a line of .308/.366/.544/.910 with 10 home runs and 40 RBI.
Jung was even more impressive once he promoted to Triple-A. In 35 games, he slashed .348/.436/.652/1.088 with 9 home runs and 21 RBI. We worked more walks in AAA than AA 18/13 in fewer games.
In looking at his splits, he wasn't kind to right-handed pitchers. He hit .338/.420/.614/1.034 with 14 taters and 43 RBI.
He's the Rangers 3rd baseman.
1. Jack Leiter
Age: 21 | Position: RHP | Draft: 1st Rd 2021 | ETA: 2023
2021: Leody Taveras
Leiter was selected by the Rangers with the 2nd overall pick of the 2021 draft out of Vanderbilt. Ranger fans were elated with the pick, including Heath, who wanted them to select local shortstop Jordan Lawlar. There was some concern among fans that he might not sign with the Rangers. The Rangers had no doubt.
At Vanderbilt, in 2021, Leiter went 11-4 with a 2.13 earned run average across 18 starts and 110 innings. He issued 45 walks and struckout 179.
Due to his workload in 2021 and Leiter wanting to continue his education, the Rangers didn't assign him to an affiliate once he was signed. Most expect him to move pretty quick through the system as college players of his caliber typically do. There has also be talk about which affiliate he'll start with. Due to Leiter having already excelled at the biggest stage such as the College World Series, some say he'll make a few starts at High-A Hickory and move to Frisco. Others think he may start in Frisco. We'll find out soon enough.
We hope you still have those shades on!
Last year we came out with our first list of the Rangers top 15 prospects. There were definitely other prospects considered for this year's top 20. It was a tough decision on these, especially after the top 5. There's pretty much a consensus of the Rangers top 3 prospects and immediate don't really think there's room for argument on those.
One last thing. These are our own rankings and Our list is put together from a group of people that love the Rangers. We watch or attend just about every RougherRiders game, do as much research as we can, and share our rankings with you so you can get an idea of what's coming down the line. We're not scouts, we do this for fun and to have a friendly dialog with you. Let us know which player you think should have made the top 20 that didn't.
**Marah Mason and Heath Criswell contributed to this article.**