Round Rock, TX – Lightning failed to strike two nights in a row as Saturday's Round Rock Express late inning rally went for naught as the Sugar Land Skeeters behind 3 solo homers had to hold off a slew of pesky hitters in the 9th inning to top the the Express 3-1 in front of raucous crowd of 6,026.
In one of the purest examples of how this game can swing, Friday night's hero Yohel Pozo, who hit the walk off homer to win it in the bottom of the 9th, had the opportunity to repeat his heroics, only to strike out swinging in the exact same 3-2, 2-out situation on Saturday. After Friday night's feats, this was truly a Casey At The Bat and Saturday, Yohel Struck out.
Brock Burke (0-4) got the start and took the loss for Round Rock, J.P. France (1-0 w/SL) started for for the Skeeters and battled his way for the win. College Station native & TCU alum Riley Ferrell fought thru loading the bases, in the ninth picked up his first save of the year.
The loss drops the Round Rock Express to 27-24 on the season, falling to a game and a half back of the Skeeters, remaining in a tie for 2nd with OKC, who lost to Salt Lake 12-2 Saturday. With the win, Sugar Land improved to 27-24.
On The Mound
Yet another magnificent performance by the staff, as a whole, went to waste by yet another anemic performance from the bats, but more on that farther down. Express piching have held opponents to 23 runs over their last seven games played (3.29 RPG) but have gone only 2-5 over that stretch.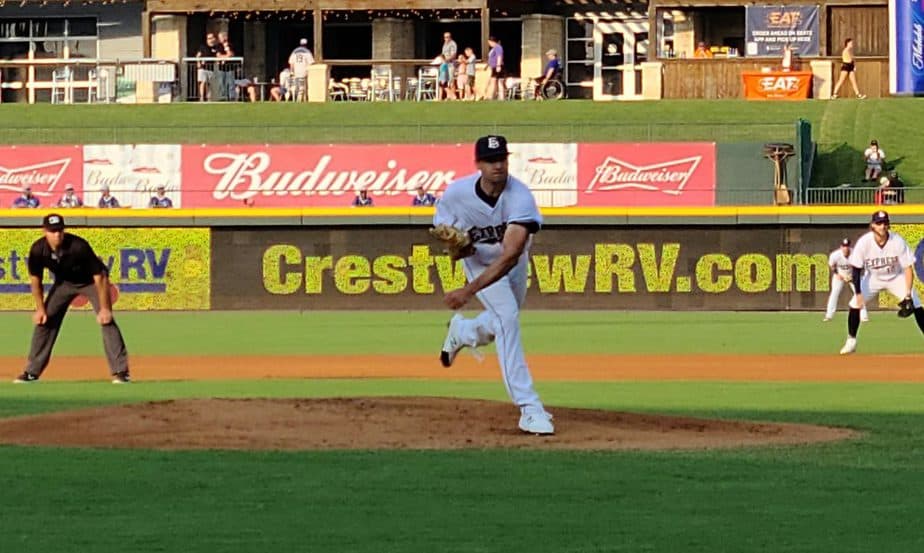 Southpaw Brock Burke (0-4, 8.18) was tabbed for the start for Round Rock and had arguably his best start, if not, second best since his return from 2020 labrum surgery. Burke went 4.2 innings holding the Skeeters to 1 run (earned) on 4 hits, one being a 4th inning Jose Siri blast (9) that gave Sugar Land a 1-0 lead they wouldn't relinquish. Seeking to return to the form that catupaulted him to prospect status in 2019 when he got his 1st "cup of coffee" appears to have finally brought the control issues that hampered him in the opening month of the season when he posted an 11:10 K/BB ratio. Historically speaking, with shoulder recoveries the velocity returns before the feel or ability to move your pitches and the lefty from Evergreen, CO has proven that accurate as he's seen an improvement of those numbers to a respectable 33:8 K/BB over his last 6 starts, while still handcuffed by strict pitch limits. Saturday Burke threw 77 pitches (48 for strike) on a 75 pitch limit, hampering his ability to go the minimum five.
As has been the norm of late the bullpen gate-keeper stayed busy as three relievers finished the night on the hill. Individually, none of the outings were anything to write home about – Burke included – outside of a dominant Jake Lemoine (4-1, 3.24) performance (1.1IP 1H 0R 1K), but as a unit, the Express pitching staff, led by pitching coach Bill Simas, is as close to a bend but don't break group as you could hope for. Saturday night the bullpen sent out a trio of RHP Joe Gatto (0-2, 4.50), LHP James Jones (2-1, 5.40) and Lemoine that gave up 7 hits and yielded 2 walks in just 4.1 innings yet only allowed 2 runs, both solo bombs from hot hitting Brian De La Cruz giving him 3 in 2 nights. Jones struggled mightily in his 1.1 innings and may be subject to fewer opportunities as evidenced by this being just the 3rd appearance for the southpaw since June 18th. The experiment may be coming to an end for the speedy former Mariner centerfielder.
At The Plate
*Deep Sigh*
As mentioned previously the inefficiency of the offense has become indescribable. Following come from behind Friday night 9th inning heroics, an effort that could be built upon, the offense picked up where it left off in the 8th inning from Friday. The recent woes can't be explained as there are times when they get people on base, but can't get the timely hit and other times when they can't make contact. Saturday-night's ninth inning was a perfect example as they kicked off the inning getting the first 2 men on with nobody out. Playing smart, home game station-to-station offense in the 9th the runners were sacrificed over by Jason Martin (0 for 3, .298/.398/.699) giving the Express runners at 2nd & 3rd with one out. Following a painful strikeout of Taveras, Curtis Terry (0-3, 2BB, 2K, .317/.391/.619) walked to load the bases before Pozo's final kick in the nuts. The Express finished the night a putrid 1-10 with RISP (you can do the math) to bring their total to 16 for their last 84 covering their last 8 games for a paltry .191 average during that span.
Pozo – being the perfect individual example – followed up his 3-4, 9th inning walk-off dinger Friday night, with a 1-4 night, picking up the hat trick (K'd 3X) and leaving 5 men on – 3 in scoring position. The recently married Venezuelan slugger was the poster child for the Penthouse to the Outhouse in a span of 24 hours.
The issues the Express bats can't be explained by a lack of seeing pitches. A combination of timely bases on balls combined with the untimely strikeout propelled Round Rock to receive 9 free passes, yet get punched out 13 times. This led to an astounding number of men LOB led by Pozo's five that was matched by Leodys Taveras.
On the plus side, John "Jazz" Hicks went yard twice and Eli White picked up a 3-run dinger of his own….only they did it for the Rangers.
On Deck
The Express, looking to celebrate Independence Day by getting back into the winning column Sunday, will send righty Tyler Phillips (0-1, 12.27) out for his third start with Round Rock while the Skeeters hope that Astros #19 prospect Brett Conine (5-1, 3.57) can stand in their way. First pitch Sunday at Dell Diamond will be 6:05ish pm with the Express' largest fireworks show of the season to follow.