RoughRiders win 8-0, snap 3 game losing streak
We knew the losing streak wouldn't last much longer. The RoughRiders are back in the win column after losing 3-games in a row. They won by a final of 8-0 over the Arkansas Travelers (Mariners). They move to 37-20 on the season while the Travelers move to 29-27.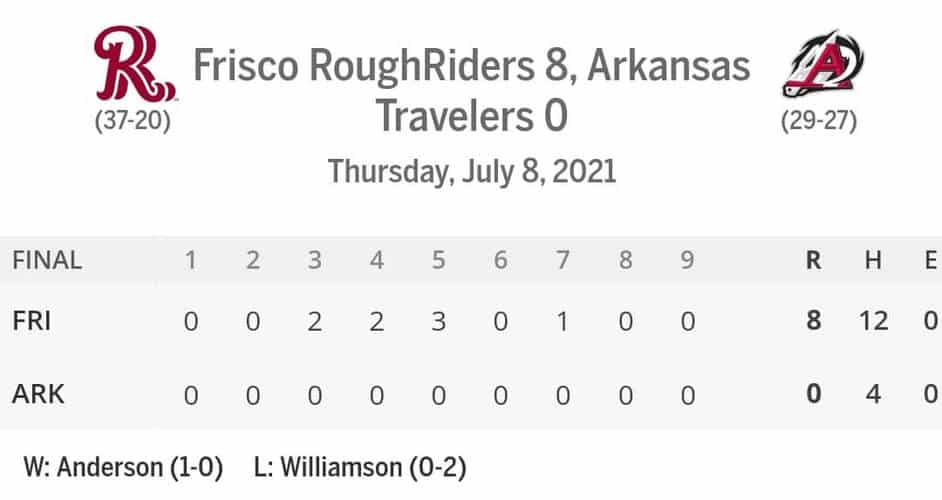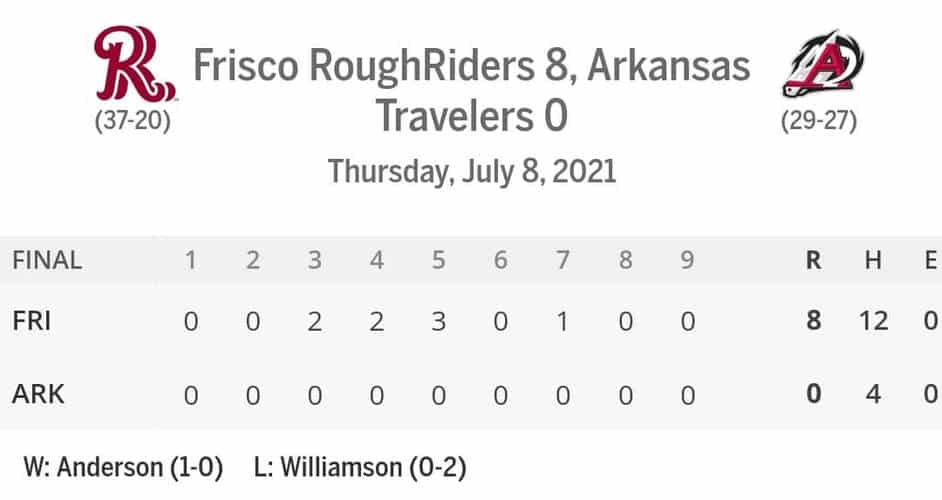 On the mound
Right-hander Noah Bremer, was just activated from the IL and made his 1st start of the season, replacing Cole Winn who was originally scheduled to pitch. Bremer (5.34) had a strong outing but didn't pitch the required 5 innings to be considered for the win. He pitched 3.2 scoreless innings, allowing two hits, one walk and striking out four.
Grant Anderson (1-0, 0.00) made his debut for the RoughRiders and earned his first win. He pitched 1.1 innings, walked two and struckout two.
Tyler Thomas (3.38) only allowed one hit in his two scoreless innings and struckout four.
Cole Uvila (1.88) shut down the 8th and 9th innings. He allowed one hit and struckout two. It wouldn't surprise me on bit if he isn't in Frisco much longer.
At the plate
The RoughRiders scored eight runs on twelve hits. Three of those hits happened to leave the outfield.
Josh Stowers (.214) who's name was mentioned a ton in the month of June, got the Riders on the board with a single that scored JP Martinez. 1-0
Steele Walker (.238) then hit a single which scored Stowers. That was all in the top of the 3rd. 2-0
Bubba Thompson (.275) went 1-5 with his 7th home run of the season in the top of the 4th. 4-0
Josh Stowers homered in the top of the 5th. It was his team-leading 11th on the season. Diosbel Arias then doubled to score Steele Walker. JP Martinez got in on the action as well and singled scoring Dio Arias. 7-0
For the icing on the cake, Anderson hit a solo shot to center in the top of the 7th. It was his 4th with the Riders. 8-0
Four RoughRiders had a multi-hit game:
JP Martinez: 2-3, RBI, 1 R, 3 BB, SO
Josh Stowers: 2-5, HR, 2 RBI, 1 SO
Anderson Tejeda: 2-4, HR, RBI, BB, SO
Matt Whatley: 2-5
Up Next
The fourth game of this series. RHP Hans Crouse (1-1, 3.48) toes the rubber for the RoughRiders against RHP Penn Murfee (4-2, 4.37). The RoughRiders will look to extend to a two-game win streak.