DeMarcus Evans is a name many Rangers fans know and if by some chance they don't, they will soon enough. This is going to be a big year for Evans who was put on the 40-man roster for protection from the rule-5 draft this winter.
I asked if he had done any celebrating after he was placed on the 40-man.
Yes I did my mom and family threw a little get together and the next day I left to go celebrate with Tyler Phillips!

DeMarcus Evans
DeMarcus Evans doesn't really need an introduction but here it is. He is a right handed relief pitcher who stands at 6'4 and is around 270 lb.
The Texas Rangers drafted Evans in the 25th round of the 2015 draft from Petal High school in Mississippi at the age of 18. He has risen up the ranks in the farm system ever since.
Evans is from a big family, his great grandmother had 19 kids and he is a high country music fan. That's definitely something that I have in common with him. I asked who his favorite country artists are.
I?m from Mississippi it kind of grew on me from my 9th grade year playing baseball. A bunch of friends and I liked it but Luke Combs probably 1st, then Morgan Wallen, Kip Moore the list goes on!

DeMarcus Evans
Evans started the year in Down East with the DEWDs where he had a 4-0 record. He pitched 22.1 innings and he had an outstanding 0.81 earned run average and a WHIP of 1.164.
Frisco
I saw DeMarcus in person a handful of times in Frisco. I came away impressed with something from every outing. The people in the press box always seemed to be impressed as well. Evans has this competitive edge about him as do most athletes but you can tell that he's there to succeed and he found a way to get out of most situations. He pitched 37.2 innings and ended with a 2-0 and a dominant 0.96 earned run average.
DeMarcus held opponents to a .119 batting average and a .266 on-base percentage between High-A and Double-A.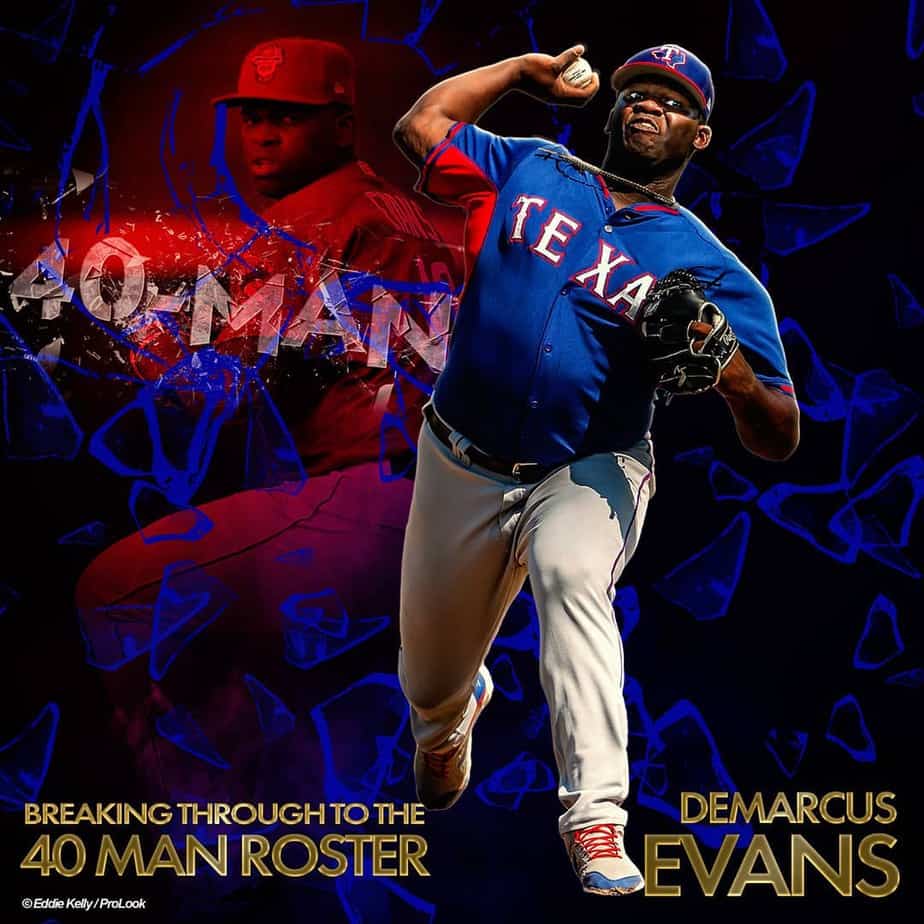 Dominican Winter League
Evans didn't have much of an off-season. He went to the Dominican and played winter ball on the Leones del Escogido and pitched 10 innings. He had an earned run average of 3.60 and struck out 9 batters while walking 7.
Dominican was unbelievable. I played with a bunch big leaguers such as Frankie Montas, Jumbo Diaz, Arquimedes Caminero, Josh Lueke and Gerson Bautista. I learned a lot from Caminero and Lueke just on how to pitch guys and what most guys look for, etc. Just being there was great all the great hitters I faced and can?t forget the first game I pitched and it was 20,000 people almost lol!

DeMarcus Evans
Evans throws a fast ball that can top out in the mid 90's and a he's got a curveball as well.
Asked if he was working on anything specific this off-season he admits he may play around with a new pitch.
Just been getting stronger, getting more explosive and working on a repeatable delivery and once I get to throw curveballs, I?ll create even better feel and maybe even play around with a change-up.

DeMarcus Evans
As you know, the minors are going to implement the automatic strike zone, and I've been curious to find out how players feel about it so I asked him what his thoughts are on it.
From seeing footage from the Arizona Fall League, it doesn?t look that good at all but it looks as if it benefits the pitchers but I just think we should keep the game the way it is!

DeMarcus
This is a big year for DeMarcus Evans. He's going to Spring Training and with a good spring, he may break with the team. If not, he'll be in Nashville with Arlington just a phone call away.