My Bowman Draft baseball card collection: some favorite prospects
Until recently, I haven't touched a baseball card since I was in my early teens. I was never a huge collector but always had some Nolan Ryan cards on hand. I never lost touch with the love of the game of baseball though. My mom was always my favorite to talk baseball with and believe me; if the Rangers were playing, the game was on. Unfortunately, she passed away in June of last year but because of her baseball is in my blood.
I just started collecting baseball cards again this year starting with Bowman Drafts as they are hands down the best cards for prospects in my opinion.
With the coronavirus (Covid-19) delaying the start of the baseball season, I thought it might be fun to show you my small baseball card collection. At the same time, you will see some of my favorite prospects in the Texas Rangers farm system.
My Bowman Draft card collection
Hans Crouse: Bowman Draft Auto
MLB prospect Rank: 7
Age: 21
Position: Right-handed Starting Pitcher
Drafted: 2nd round of the 2017 draft.
Hans Crouse is a right-handed starting pitcher and probably my favorite prospect because I love pitching and he has the potential to be a top of the rotation pitcher. Needless to say, this year was going to be a big building year to see what each of the prospects have within the system. Crouse had surgery this off-season to remove bone spurs that he had been pitching with in his right arm (throwing).
Hans also has a delivery where he will sometimes shimmy his hips just to throw batters off and give them a different look. I have not seen him in person yet but will as soon as he gets to Frisco.
[embedyt] https://www.youtube.com/watch?v=jAjGsi1ATFs[/embedyt]
Leody Taveras: Bowman Draft Auto
MLB prospect rank: 3
Age: 21
Position: Center Field
Signed by the Rangers out of the Dominican Republic, on July 2, 2015
I had the pleasure of watching Leody play quite a few times in Frisco. Leody is a close 2nd as far as an absolute favorite and he really does have it all; except for power hasn't come along. The plays that he makes in the outfield look easy with the way he runs, it's like he glides. His speed is legit.
I'm no scout but to my eyes the only thing that needs to improve is his power. However, even without it, he could take over in center for the Rangers later this year or in 2021. Defensively he is ready.
Anderson Tejeda: Bowman Draft Auto
MLB prospect rank: 8
Age: 22 in May
Position: Shortstop
Signed by the Rangers in September of 2014 from Bani, Dominican Republic
Anderson Tejeda is someone I look forward to seeing in person as well and in 2019 added switch-hitting to his arsenal.
He spent last year in Down East but only played in 43 games due to a shoulder injury. His numbers from last year are below.
Tejeda hit all four of his home runs batting from the left side against right-handed pitching.
Before the coronavirus shut everything down this Spring training he was batting .500/.611/.786. His OPS was 1.397. He hit 1 home run and had 6 RBI, 3 walks, 1 strikeout and a stolen base.
Cole Winn: Bowman Draft Auto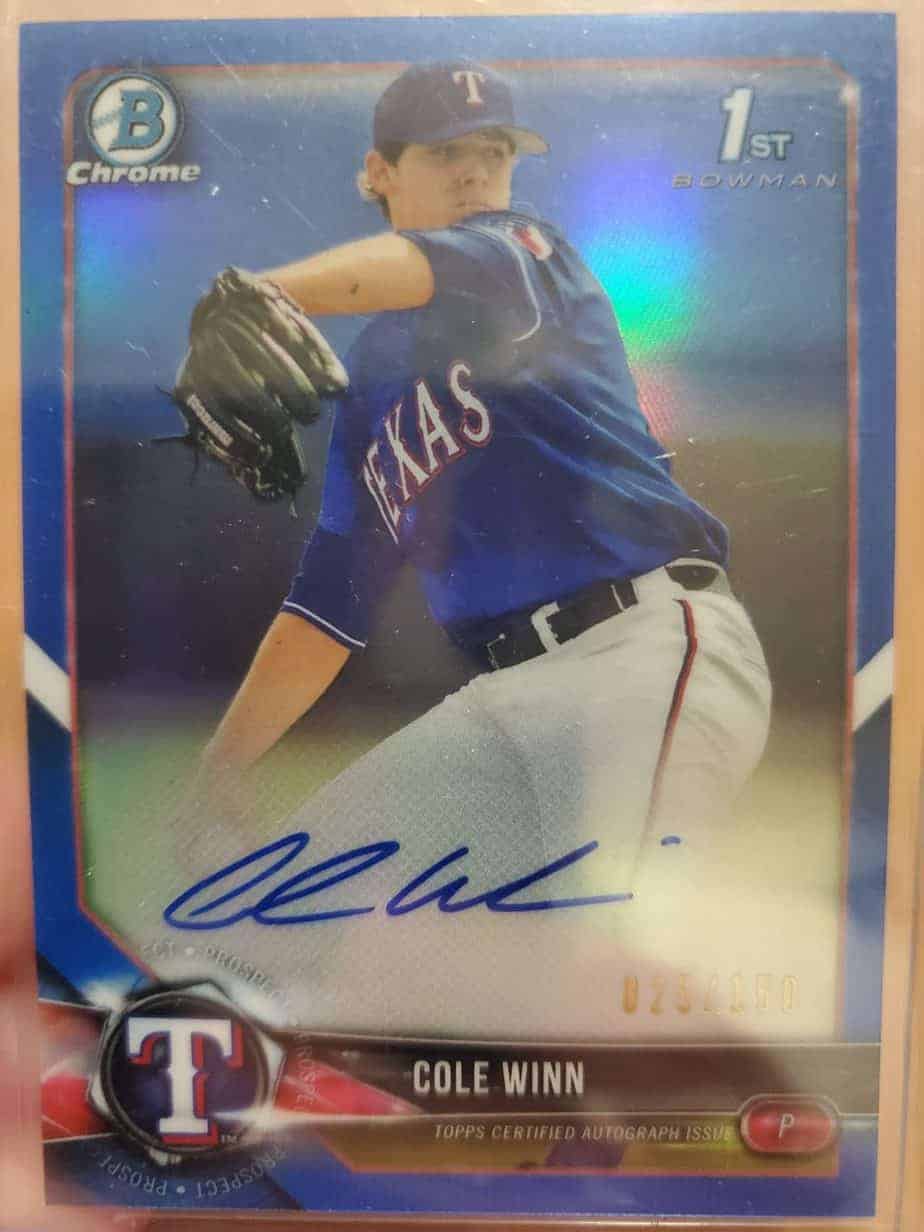 MLB prospect rank: 4
Age: 20
Position: Right-handed Starting Pitcher
Drafted: 1st Round (15th) of the 2018 June Amateur Draft.
Winn also has the potential to be a top-of-the rotation pitcher. He is another prospect that I have not seen in person. His fastball sits between 92-94 mph and can max out at 96 according to scouting reports. He definitely has swing and miss stuff.
He spent 2019 with the Hickory Crawdads and seemed to hit a groove about the last 4 games. On 8/29/19 he pitched over 5 innings for the first time. He pitched 7 shut out innings where he allowed 5 hits while striking out 5.
Give away notice
I've still got 4 packs of unopened 2019 Bowman Drafts and I'm trying to decide how I will give some of the cards away. I need ideas. The first person who follows us on Twitter and sends an idea to me that I choose will win a 2020 Gypsy Queen Texas Ranger card as I've got a few on the way.
Baseball will be back but until it is, stay safe out there.