I've missed baseball at Dr Pepper Ballpark since the RougherRiders season ended but I was able to get a short fix last Tuesday. The Texas Rangers futures played against Grayson College. I had to leave the game early but I was able to take a few pictures and want to share some with you. When I left the game the Futures were leading 6-1 but I don't know the final. There are no box scores out there to be found.
Some things I noticed from my non-scouting eye:
Sherten Apostel is a big human. I've seen him listed at 6'4 but in person he seemed a little taller. Add Curtis Terry and Tyreque Reed to this list as well.
We've got a good group of young guys that could legitimately be in Arlington within the next couple of years. DeMarcus Evans and Joe Barlow will be in Arlington next year and plenty of others will follow them. All of these futures look like they belong in a Rangers uniform.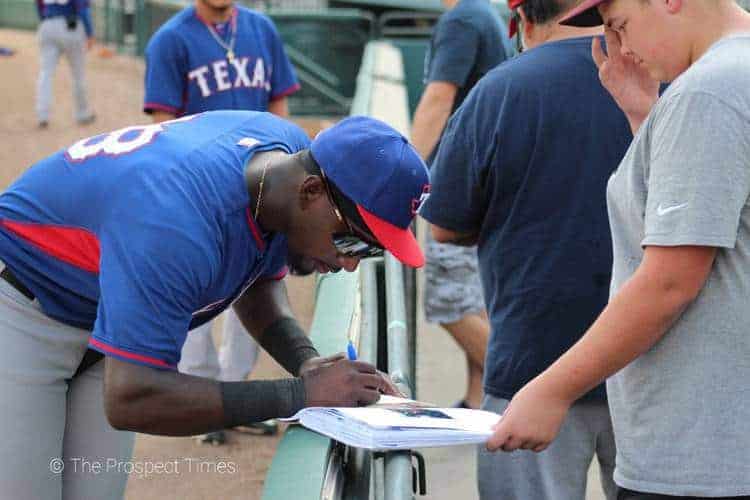 Billy Layne Jr pitched in Spokane this year. He made 13 starts and ended 2019 with a 4.83 earned run average in 31.2 innings and a 1.168 WHIP. Layne Jr also pitched 1 inning in the Arizona League. UPDATE* Bill Layne Jr is no longer with the Texas Rangers. He was released earlier in 2020 and went on to play for the Somerset Patriots, who at the time were an Independent League team that is now an affiliate of the New York Yankees.
Curtis Terry recently won the Minor League player of the year. He played in Hickory and Down East. Between the 2 different leagues, he hit 25 home runs and 80 RBI. His batting average was .293, OBP .362, SLG .537, .899 OPS.
Tyreque Reed
Reed played in 3 different leagues this year. With the Hickory Crawdads, he played 64 games and hit 13 home runs and knocked in 48 runs. He showed a little speed with 4 stolen bases. In Down East, he hit 4 home runs with 17 RBI.
Ornales
Ornales was drafted in the 3rd round of the 2018 draft and is someone many fans have been keeping tabs on, including myself. I am glad I was able to see him in person. He spent the season in Hickory.
2019 stats: .257 AVG, .333 OBP, .373 SLG, .706 OPS
Josh Javier
Javier spent 2019 in Spokane and has a 0-1 record with a 3.35 earned run average in 37.2 innings. He'll need to bring the walk rate down as he walked 28 and struck out 43.
Blaine Crim was the Rangers pick this year in the 19th Round of the MLB draft.
After he was drafted, Crim was assigned to the Spokane Indians. He made his presence known by earning an all-star nod. Crim batted .335 in Spokane while hitting 8 home runs and driving in 45 runs with an OPS of .927.
I will add more to this post later but it was awesome to see the Texas Rangers futures.