This goes without saying but I'm going to say it anyway, "This is not the typical baseball season". Heck, if it was maybe I probably don't fully buy into this idea but hear me out. It's time for the Rangers to play their prospects.The Rangers have lost 8 games in a row after losing the 3-game series to the Mariners. This team isn't performing up to their ability, or maybe they are. Either way we are not a .500 baseball team. The Rangers are currently 10-17 with only 33 games left to play. It is clear that they are in more of a rebuild mode than sell off the farm and go for it now mode. This week JD needs to listen to offers on every player, including Joey Gallo. Lance Lynn has got to be the most valuable trade piece the Rangers have at the moment.
The rotation
Outside of Lance Lynn, the starting rotation is now struggling. Mike Minor hasn't been the same and his change-up just isn't where it was last year. Kolby Allard may lose his spot in the rotation next time around and it might be Wes Benjamin who replaces him in the rotation. And of course there was the key injury to Corey Kluber.
The bullpen
Outside of Brett Martin, Jonathan Hernandez, and Rafael Montero-who just came back from injury, this bullpen is struggling. Just across the way, at the alternate site, the Rangers have a couple of relievers that would like to be on the mound. I'd call DeMarcus Evans right now but we'll touch more on that in a moment.
The pitching staff as a whole has an earned run average of 5.18 which is 25th in baseball. Their batting average against is at .240 which is 14th in baseball just behind the A's.
Swinging the bats
This line-up has been struggling , almost non-existent. As a team the Rangers are hitting for an average of .210 which is 28th in baseball. They rank 27th in home runs with 23. They are dead last with a .635 OPS (On- base plus slugging).
It's time for the Texas Rangers to play their prospects. Here are some of the players that are currently on the 40-man.
Start by bringing back Taveras and Tejeda.
Leody Taveras
Leody Taveras. Bring him back. At least get him in the line-up and let him play multiple games. Leody has a little of everything but is lacking power but as shown in Spring Training, he can hit dingers. Danny Santana is not the answer in Center and neither is Solak.
Between Down East and Frisco last year Taveras hit for a line of .279/.344/.376/.719 with 5 home runs, 56 runs batted in and 32 stolen bases.
Anderson Tejeda
Tejeda made his presence known in his Debut on August 6th. He went 2-4 with a home run, 3 RBI and a stolen base. Unfortunately, his efforts weren't enough and the Rangers lost by a final of 6-4 and their record was 3-8 at the time. Tejeda could be the future at short but the Rangers also have Maximo Acosta, Chris Seise and Jonathan Ornelas but none are in the 60-man player pool.
Here are the players on the 40-man but have not made their debut.
DeMarcus Evans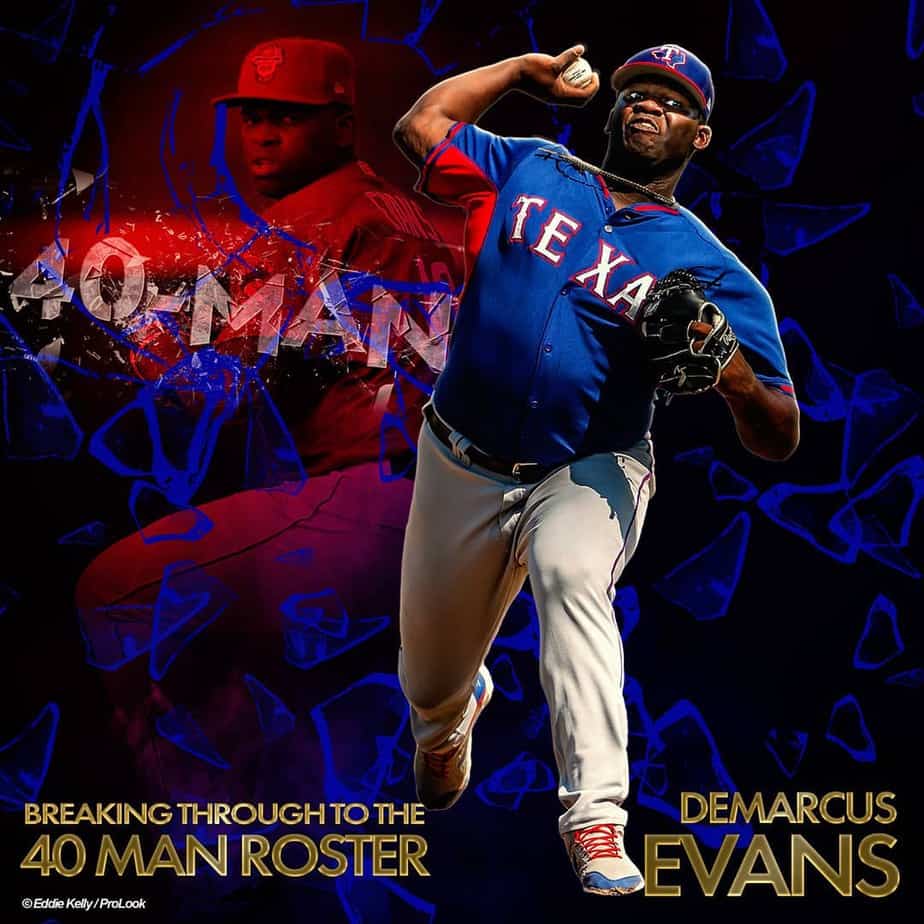 One of my favorites is DeMarcus Evans and I am sure many of you Ranger fans know of him. He is just waiting for his name to be called. Looking at his numbers from from last season between High-A with the Wood Ducks and Double-A with the RoughRiders, he dominated. Between the two levels he had a 6-0 record with a fantastic 0.90 earned run average. In 60 innings pitched, he struck out 100 batters and had a WHIP of 1.033. The only issue was with walks but I saw him several times work out of trouble with relative ease.
Jason Bahr, who the Rangers received from the Giants in a trade-they basically bought him, is also at the alternative site. Bring him over too. He started in own East last year where he went 6-1 with a 1.71 earned run average and a 1.086 WHIP. After dominating in High-A he promoted to Frisco. He went 4-3 with a 3.23 earned run average and honestly, there were two games where he allowed 4 runs and then a 6 run game. Those are what really ballooned his ERA. His strikeouts per 9 innings were actually higher in Frisco at 9.6 than in Down East.
Tyler Phillips
Phillips is a guy that throws strikes. In Frisco he never issued more than two walks in a game. He pitched 93.1 innings and walked 20 batters. Between Down East and Frisco he walked 1.8 batters per 9 innings.
Apostel is a big guy- taller than I pictured, I saw him in person during Futures camp in Frisco. He is currently ranked as the Rangers # 10 prospect according to MLB.com and he is on the 40-man.
Last season between Hickory and Down East he showed his power potential hitting 19 home runs and driving in 59. His line between the two was .251/.339/.440/.779.
Other players to consider that are not on the 40-man but are in the 60-player pool. To be clear, I do not think all of their prospects on the 60-man will play this year.
Alex Speas
Speas is very intriguing; he has come back from the all-to common Tommy John surgery in 2018 and his fastball is reaching upwards of 100-102 mph. That is faster than what it was originally. The really impressive part is that he has been able to consistently throw them for strikes.
Andy Ibáñez
Im curious to see how Ibáñez' bat would play in the Majors. Last year in Triple-A with the Nashville sounds he slashed a line of .300/.375/.497/.871 with 20 home runs and 65 RBI.
Ricky Vanasco
I'd like to see Vanasco in Arlington at some point in the right situation. I wouldn't mind seeing all of them but I know that's not going to happen. Vanasco really shot up the prospect rankings this year. MLB has him as the # 18 ranked prospect.
Vanasco spent most of his time last year in Spokane but also spent time in Hickory. Between the two, he has a 3-1 record with a 1.81 earned run average. In his 49.2 innings pitched he walked 25 but struck our 75 for a 13.6 strikeouts per 9 innings pitched. His whip was 1.067.
They could also consider other top prospects but to me, it would be less likely:
Cole Winn
Josh Jung
Sam Huff
There will definitely be a couple of spots open as I expect the Rangers to be active sellers in the trade market and they may release a couple of players that don't have a future on the team. Keep in mind that some of the players in the 60-man pool can be traded also. I'd expect the Rangers to hold onto most of their prospects unless including them would sweeten a return.
In this shortened season, why not let the young guys play? It's time. What do you think? Which prospects would you like to see in Arlington?