Express Fall to Dodgers 7-2, Lose 5th Straight
Round Rock, TX – Powered by a five run 8th inning and solid pitching from start to finish the Oklahoma City Dodgers beat the Round Rock Express 7-2 in front of a Fathers Day crowd of 6,067, the 2nd largest crowd at Dell Diamond of the 2021 season. Ryder Ryan (0-2, 4.41) allowed all 5 of the runs in the 8th, took the loss in his 1 inning of work. Dodger reliever Brusdar Graterol (2-1) pitched a scoreless seventh and got the win, his second of the series.
David Dahl (.125/.125/.250) on a Major League Rehab assignment (rib cage/upper back), went 0-4 with a strikeout. Dahl is now 1-8 with a double and 2 strikeouts in his current 2 game stint. With the DFA of Khris Davis by the Rangers, there should be a clear path to playing time for Dahl when he returns to Arlington, likely this week when the Express head out on a six game road trip.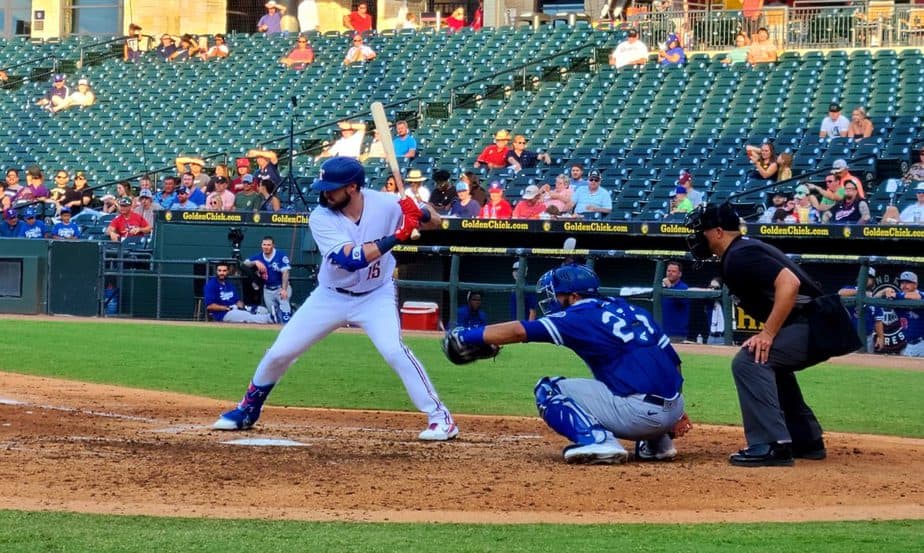 The loss dropped the Express to 23-17 on the season while the Dodgers evened up their record at 20-20. With the Sugar Land Skeeters beating El Paso by a touchdown and a field goal 24-15 Sunday night (no extra point), Round Rock falls to 1.5 games back while the Dodgers remain 4.5 back.
On The Mound
South Korean Hyeon-Jong Yang (0-0, 4.91) made his Triple-A debut (3rd straight day that's been said) which usually happens before a Major League debut, but with his outright assigment this past week by the Rangers, the 33 year old finds himself in Round Rock. Sunday night the lefty starter was solid, if not spectacular, save for two mistake pitches that went a combined 800+ feet. Yang's final line was 3.2 IP 3H 2R/ER while striking out 3 and walking none.
Jharel Cotton (3-0, 4.94) pitched a scoreless inning, allowing one hit and striking out 2 but special mention should be made of Sal Mendez (0-1, 9.82 in RR) as he rebounded nicely in his second Triple-A appearance throwing 2 innings of one-hit ball while striking out 3 in the process.
The dark cloud over the night, Ryder Ryan (0-2, 4.41), started innocently enough when he came in relief with 2 out in the top of the 7th, as he promptly threw one pitch and got one out. As the 7th turned to the 8th the righty imploded, allowing 4 hits, 5 runs (4 earned) while walking 2 and throwing a wild pitch that gave the Dodgers a 2 run lead. Even his outs were damaging as he allowed a long sac fly to score as well. By the time Dodgers 1B Yoshi Tsutsugo homered and LF Drew Avens singled Ryan was clearly perturbed and wanted out as evidenced by his body language. Avens took advantage of the situation and promptly stole second without even so much as a look from Ryan to hold him at first. The ensuing throw ended up in centerfield and after DH Omar Estevez drove in Avens with a run scoring single, Ryan's night mercifully came to an end. Ryan's final line of the night was 1IP 4H 5R 4ER 2BB 0K 1HR 1WP. This was a particularly troubling outing as the 26 year old righty definitely allowed his emotions to take him over.
In brighter news, Nick Vincent (0-0, 4.11) celebrated Fathers Day with his wife, kids and 3 strikouts in 1.1 hitless innings.
At The Plate
Second Baseman Andy Ibanez (.352/.410.648) who's becoming a regular in this section, continues to tear up Triple-A pitching going 2-4 with an RBI (25) and a run scored. Ibanez is currently 4th in hitting & SLG (.648) and third in OpS (1.058). As the season progresses, quickly in Ranger/Express terms, Ibanez may be one of the first ones out.
Catcher John Hicks (.275/.348/.375) went 2-3 with an HBP and remains a steady force both on the field and in the dugout while Leodys Tavaras (.231/.331/.413) hit his 7th homer of the season in going 1-3. Tavares, hoping to turn around a dismal campaign, both at the Major League level as well as the minors, struck out twice, giving him 7 strikeouts in his last 15 at bats and an alarming 53 on 143 AB's for the season.
Up Next
The Red Dirt Rumble picks up again Monday at 7:05 with the series evenly split at five games apiece. Righty Yefry Ramirez (3-2, 4.29) takes the hill for the Dodgers while left-hander Brock Burke (0-3, 10.45) looks to right the ship, both from a team and personal standpoint for the Express.
Monday is also Dollar Hot Dog Night at Dell Diamond so there's a good chance I'll be sleeping alone.