RoughRiders walk off againp
Baseball brings people together. It's just one of the many reasons I love it.
This is now the 3rd game that I have been able to cover as a credentialed media member. I have certainly been blessed and it has given me a different perspective of the game. Sitting in the same room as the official score keeper, the MiLB app person ( I don't know the official title) and the stat guys has given me a deeper appreciation for the game that I already love. Before this season, I did not think that was even possible.
This game is special to cover and this particular game was even more special as it was the Multicultural game. I believe I saw that the RoughRiders have playerspfrom 5 different countries. I planned on coming to this one when the promotional schedule was released. Luckily I was able to attend and it certainly didn't disappoint.
Before the game I met Greg Scallan, one of the contributors to this site. He was able to get an interview with Michael De Leon so be sure you stay tuned and don't miss it. He had also given away balls to a few lucky kids.
Again, Baseball has a way to bring people together. This night proves it.
I've seen Bagpipes, middle school band and Jonathan Hernandez signing autographs for the kids.
Edgar Arredondo
This was his 3rd start of the year and 2nd time facing the RockHounds. The first pitch was at 7:08 PM. I certainly do not?profess to be a scout but here are some of my observations from sitting in the press box.
Arredondo seemed on it from the first pitch tonight, until the 4th inning.
Arredondo's Pitch counts:
1st inning: 9 pitch inning
2nd inning: 7 pitch inning
3rd inning: 14 pitch inning.
The 4th inning is where Arredondo ran into trouble. It seemed that things escalated quickly for Arredondo. The first 2 batters reached with no outs and were on 2nd and 3rd. At one point 12 of 24 pitches he had thrown were balls.
He ranged anywhere from 78.8 on his slider, 81 MPH on his breaking pitches to 91.2 on his fast ball. That was just from the few times I looked.
32 pitches and 7 runs later, he was pulled for Blake Bass. It took 16 pitches for him to get that last out.
Arredondo's final line:
3.2 IP, 9 H, 7 R, 1 BB, 2 SO. He threw 62 pitches and 42 of those were strikes. At one point I saw his spine rate on a fastball was 2,343.
Blake Bass pitched the top of the 5th as well.
Bass' final line was 1.2 IP, 1 H, 2 BB, 2 SO. ERA is now 2.16. Bass hit up to 94.2 on his fast ball.
St John (1.04) had the 1st 1-2-3 inning since the 1st inning for the RoughRiders. He pitched 1.2 innings striking out 1 and got up to 94.5 MPH with a spin rate of 2,431.
Yoel Espinal (7.00) pitched a clean inning throwing 11 pitches, 7 for strikes.
Walker Weickel (1-0, 0.75) pitched 2 scoreless innings, including the top of the 10th when a runner started at 2nd. He walked 1 and struck out 2 on 27 pitches and got the W.
Offensive Stars
The RoughRiders line-up has definitely been a surprise to me so far this season.
Quite a few in the line-up had a hand in this walk-off.
Charles Leblanc went 2-4 with 2 runs and a walk. He has a nice .375 average.
Juremi Profar had a nice RBI double that dropped in the gap between Center and Right in the bottom of the 3rd that scored Charles Leblanc. He ended up going 4-5 with 2 RBI and is now hitting .305 on the year.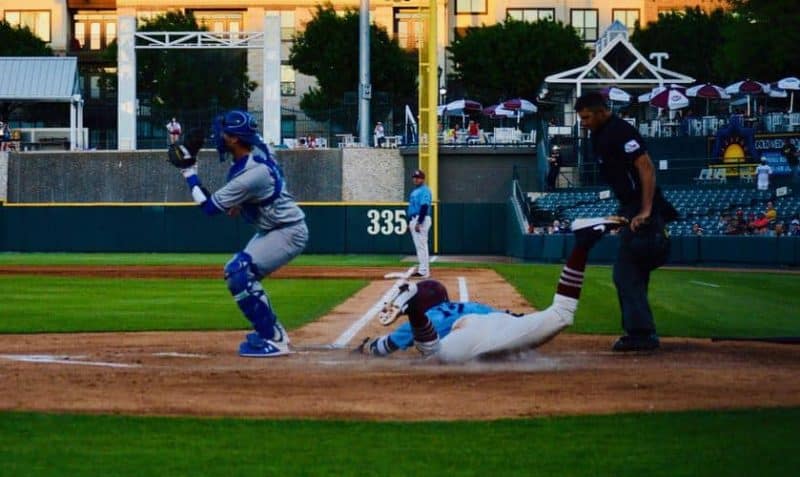 Andretty Cordero went 1-5 with an RBI and is hitting .286.
Last nights hero, Tony Sanchez went 1-3 with a run and a walk. He took a pitched off his left arm as well that will be sore. It's a good thing the Riders have the day off tomorrow. He's got a solid .333 average on year.
Eliezer Alvarez hit a no doubter, 418 foot HR. It went over the Choctaw River. He went 1-5 with 2 runs, 2 RBI, 1 strikeout and is hitting .278 on the year.
LeDarius Clark ended up getting the game winning hit. He went 2-5 with 1 run, 2 RBI and 3 strikeouts.? Clark has a good build and is powerful. His average is now at .108, which is surprisingly low.
Defensive specialist Michael De Leon went 1-3 with a run and a walk and is hitting .260. There was a caught stealing in the top of the 3rd where the throw from Sanchez was high. De Leon caught it and brought his arm down so fast and all in one motion it seemed. I was kind of impressed. Again, I'm no scout so I am easier to impress.
Overall, I would say the Frisco RoughRiders Multicultural night was a hit.
The RoughRiders walked it off in the bottom of the 10th and won 8-7 over the Midland RockHounds. This win moved them to 10-7 on the year.
This was easily the biggest crowd I've seen so far this season. The official attendance was 8,356. That makes it the 2nd highest in attendance trailing April 4th that had an attendance of 9,306. Baseball brings people together.
What's next for the RoughRiders?
A day off on Sunday which is good because Sanchez will need it.
Riders at Arkansas on Monday, April 22nd at 7:10 pm.
LHP Brock Burke (0-2, 6.43) vs. LHP Ricardo Sanchez (3-0, 0.98)