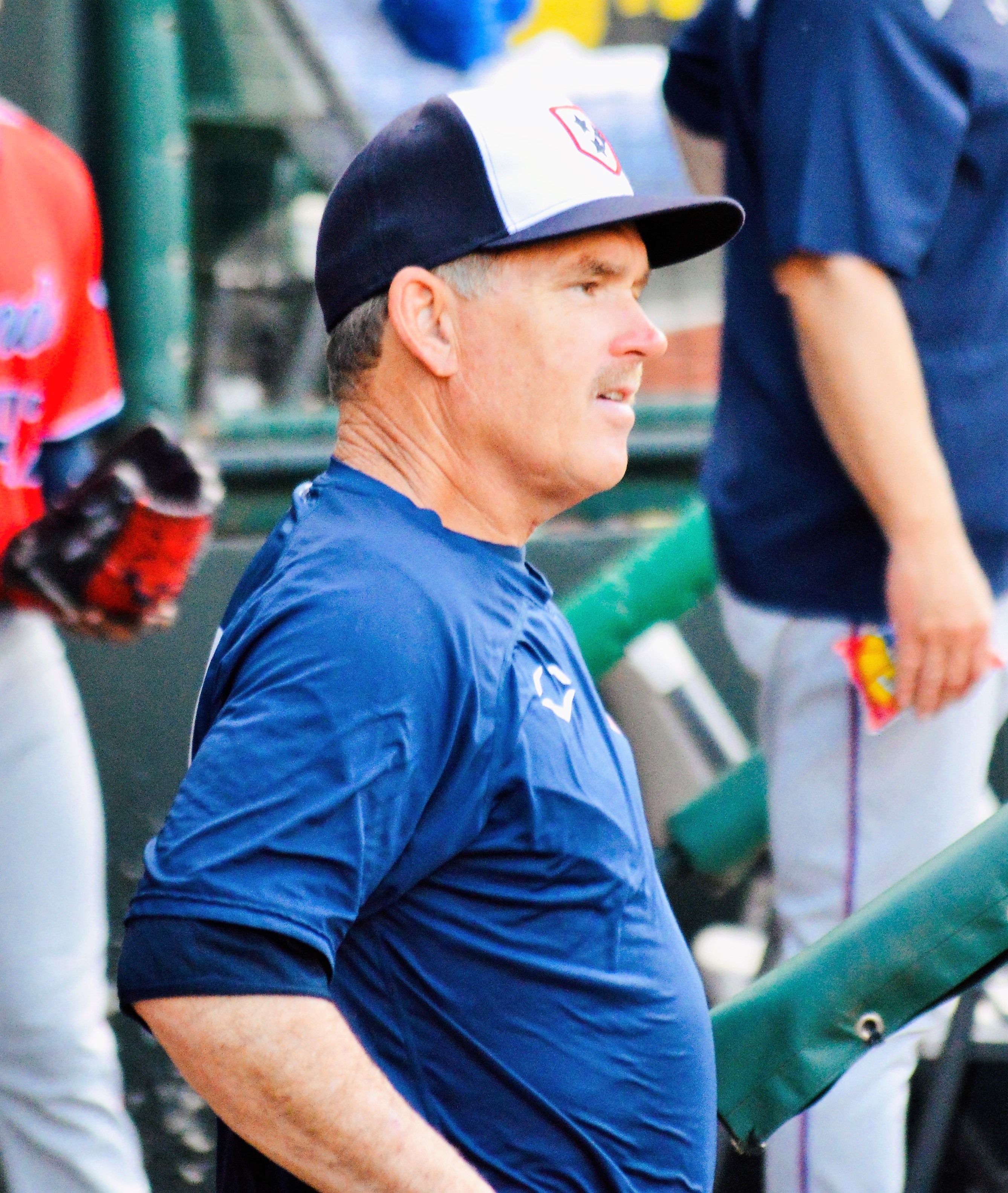 Talking with Howard Johnson
May 8, 2019
I was leaning against the dugout railing scrolling through Twitter-(#freedilly)- when I turned to my left and saw a man standing there. "Hello, Howard Johnson. I heard your the BBQ guy."
"Greg Scallan, it's truly an honor to meet you. And yes, I'm the BBQ guy."
~We will talk about BBQ in a future article.~
So let's hold up at this point. Let me remind you I'm not a paid writer. I'm not around pro athletes day in and day out. I'm a fan writer about the Rangers organization and a huge baseball fan.
Howard Johnson, who had a 13 year MLB career with 4 different teams, 2 time All Star, 2 Time World Series Champion, led the National League in Home Runs and RBI's in 1991 just came up to me and introduced himself. A combination of fandom and awe came over me. Lets get back to the story.?
Jeff Hem, the Sounds play by play announcer, was standing next to us and mentioned to Johnson I wanted to do an interview with him. After we talked for a minute, he said let's get together right after batting practice. This was the main interview I wanted to get during my week with the Sounds. I had been planning it for a few weeks. I wanted to talk to him about the differences in the game from the time he played the game compared to today and how that translates into his style of coaching. As you will see in his response below, it's quit simple.
We also talked about Willie Calhoun, who at the time had a 10 game hitting streak and as of today, May 15, 2019, has extended to 15 games.
Here's our conversation:
GS- Coach, thank you for taking the time to meet with me, it's and ho-
HoJo- Call me HoJo!
GS- HoJo, ok man! No problem.
GS- I follow you on Twitter and see you interact with your fans a lot.
HoJo- Oh nice! Yeah I like to stay in touch with the fans.
GS- So you played for 13 years in the major leagues. How have you adjusted from being a player that long ago to coaching in todays game?
HoJo- Well I think Greg when you get into coaching your perspective is always what you did as a player. How you see the ball out of a pitchers hand, how well you did against pitchers, are you swinging the bat good or bad, so I think you draw on your own experience to try to help the young guys. When I started out coaching in half season A ball with the Mets, you start to learn you can apply some of that stuff to hitters but most important thing is to try to understand what those guys are doing and what they are thinking. Then you try to match it to something you went through as a player or a thought process you had as a player that could help them. We didn't have the big analytics like we do now, there was a lot still but now a days there's so much information. I still try to draw on my experiences still but not to the extent that I used to. I want to understand what they are feeling in the box to help them. That's probably my biggest thing.
GS- When you played back in the mid 80's etc. did you guys have video of your at bats and pitchers like they started doing?
HoJo- We didn't have it with the tigers. With the Mets we just started doing it. We had a guy that would sit on the opposite side depending on if it was a right or left handed pitcher with a cassette and we would watch it the next day.
GS- Willie Calhoun has been hitting the ball very well lately, 15 game hitting streak as of 5/15/19, what adjustments if any have you made with him to get him back on track?
HoJo- No no, we made some adjustments. What I noticed with Willie was that he was chasing a lot of pitches out of the strike zone. I know in his mind he was trying to go to left field and left center but what we did was a couple of things. We adjusted his sights to right center which freed up his body. Now he doesn't have to fight against it, if he's trying to go that way opposite field and he's diving out over the plate and his body is going to be in the way if they throw anything middle in or breaking at his ankles. He's got to able to have that spacing there. It helps him see the field a lot better.
*NOTE* As I'm writing this article Willie Calhoun has been recalled to Texas and starts tonight at DH against Kansas City.
GS- So when teams shift on hitters, such as Calhoun or let's say Gallo with the Rangers, does that get into a hitters mind? The shift is still relatively new just over the past couple of years but you mentioned Willie trying to go opposite field. Do you talk to your hitters about a different approach against a shift?
HoJo- It's hard to because the problem is because when guys shift, they are shifting to your strength. I'm in the old school thinking of staying with your strength. If your trying to do something at the plate your not used to like hitting opposite field your just going to get yourself out because the margin for error is so slight. Your better off looking for a pitch you can drive to the gaps as opposed to try to serve a ball to the opposite field because too many guys try to do that and get themselves out and it's frustrating for them.
GS- Is it a big key to see more pitches for hitters?
HoJo- Yeah for sure. If your seeing more pitches then your not diving out over the plate. It won't get you tied up. Every pitch is not designed to strike you out. Experienced pitchers use pitches to set you up. Once you understand that as a hitter and mature at the plate you eliminate what the pitcher is trying to do.
GS- What do you like to do in your free time? In the offseason?
HoJo- I enjoy playing golf. I've been living in Nashville for about 6 years now so I enjoy spending time with my grandkids and my son has a sports performance facility in Nashville, Showtime Sports Academy. So I like spending time there with our travel ball kids and softball girls. Oh, and BBQ….
~Once again, stay tuned for the BBQ story!~
GS- What is your favorite home made food dish?
HoJo- I like a lot of things! First off I love any Ribeye steak that I make. My brisket is delicious. My oldest daughter makes a great chicken recipe close to chicken parm. My wife makes a nice salmon. My favorite dessert is a skillet pineapple upside down cake on the grill.
GS- Hojo, thank you for your time. I really appreciate it!
HoJo- Your welcome Greg! Thank you!
What a great interview that was. I loved the detail he went into talking about hitters approach to the plate and adjustments he made with Willie Calhoun. I can't wait to see him again in August back here.
I got a chance to spend more time with HoJo a few days later during BP of their last day in Oklahoma City. I can't stress enough of what a great guy he is.
Here is an interview with Eli White as well.