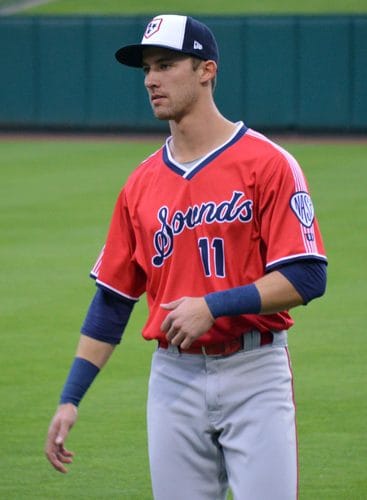 When I spoke with Nashville Sounds Play by Play man Jeff Hem last month about some prospects to keep an eye on there was no hesitation when he said Eli White. So when the Sounds came to Oklahoma City last week I made sure to connect with him. Eli willingly took time out of his preparation for the game that night to sit down for 10 minutes.
Eli White came to the Rangers organization through a trade with the Oakland A's last off season that included the Tampa Bay Rays in a 3 team trade.
(Fun Fact- He found out of the trade by phone on his honeymoon. Hey Honey, guess what…..)
Standing at 6′ 2″ and 175 lbs., White was drafted in the 11th round by the A's in 2016 out of Clemson. Texas assigned him to AA Frisco however a great spring and some roster moves gave the Rangers a very easy option of starting him out at Nashville. Turning out to be a smart move so far in 2019.
As of May 13, he's hitting .268 in 123 at bats with 16 runs scored.
Watching him this past week you can see why he was a big part of that trade for the Rangers which included sending Jurickson Profar to the A's. Playing SS and 2B he has a silky smooth glove and is very fluid when fielding his position.
I was pleasantly surprised by how open and honest he was in the interview which is refreshing to not hear the same old same old. Read below to see what he had to say.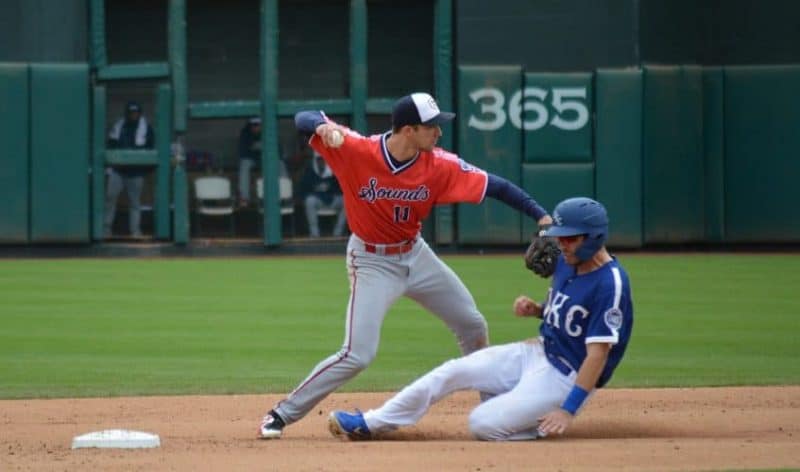 My conversation with Eli White
GS- What did you work on in the off season to get ready for 2019?
Eli White- Coming off a good year last year I wanted to build on what I did well which was drive the ball to the gaps, get stronger and hopefully those doubles will turn into home runs and stuck with a lot of the approach stuff that I did last year which gave me some success.
GS- Whats the biggest difference from AA to AAA?
Eli White- The pitching. The pitching in AA is good but I feel the pitchers here in AAA are all major league caliber arms. I'm facing more guys that have pitched in the big leagues and know how to get hitters out. You have to make adjustments quicker so that's been a learning process for me.
GS- Do you think there's a bigger jump from A to AA or from AA to AAA?
Eli White- It's hard to say. I've always heard the jump from A to AA is tougher but I feel like i'm having to make more adjustments earlier from AA to AAA.
GS- What's your approach at the plate?
Eli White- Yeah i'm always hit off the fastball. Early in the count i'm looking to drive a fastball into the left center gap. If I get an off speed pitch i'm going to trust my swing and use my eyes to adjust.
GS- Are you looking to see more pitches to get into a hitters count with the pitchers better at this level?
Eli White- It depends, with a starter i'm probably going to see him 2-3 times so especially in my first at bat i'm trying to see what kinds of pitches he has. When i'm facing a closer, we know he's probably a 2 pitch guy and a power arm so the first pitch I see if it's a good pitch i'm going to try and hit that one. You don't want to get into a deep count with a power pitcher. If I can work the count it helps my teammates also with seeing what he has.
(I love this answer!)
GS- What is your favorite home made dish?
Eli White- My Grandmas lasagna. It's unbelievable.
(As most of you know I ALWAYS ask this question in every interview regardless of who it is. It's becoming my thing. Lasagna is starting to catch up with Chicken and Rice.)
After the interview was over I recommended Zio's Italian Restaurant here in Oklahoma City the next time he comes back.
What seemed most impressive to me about White is his focus. Listening to his answers and talking to him about baseball he was very calm and clear. He didn't hesitate with any answer and seems to know where he is in the game and where he wants to go. There's no doubt Eli White is destined to play major league baseball one day. If he keeps up this pace, it will be sooner than later.
#SoundsRemastered #TogetherWe #Sounds #Rangers